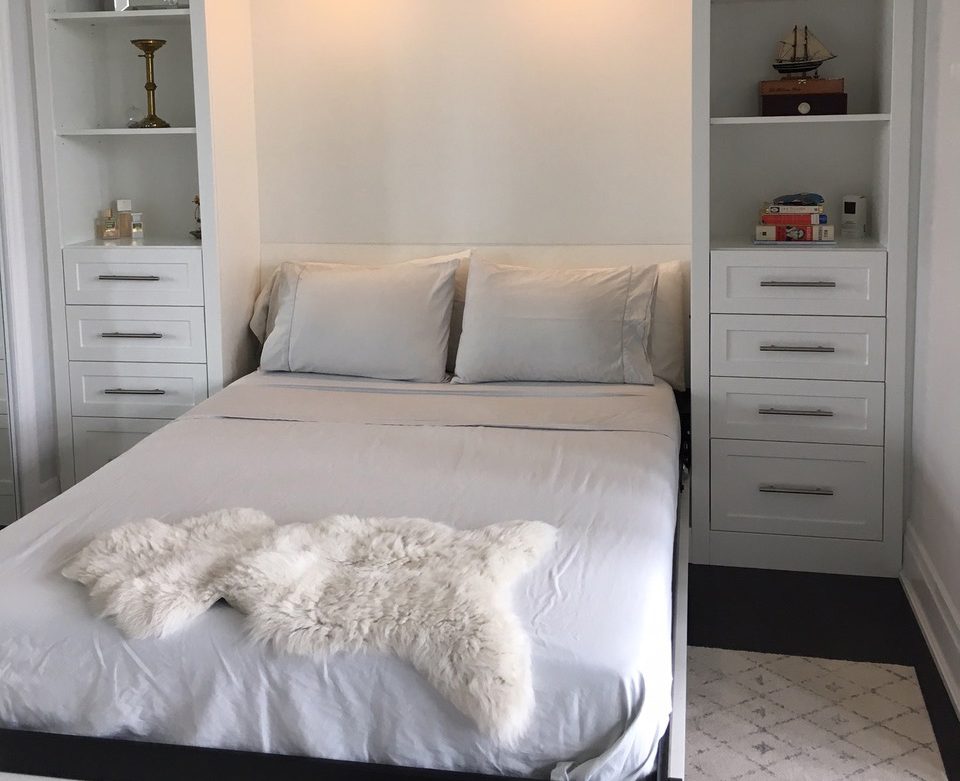 Murphy Wall Bed
This blog post is going to take us back to the roots of STIL Design, Murphy Wall Beds, where it all began! Before we began doing closets, wardrobes and vanities etc., the company originally began by providing its customers with wall beds over 20 years ago. 20+ years later, although we are now providing our clients with additional storage solutions, our wall beds are still around and for good reason! Murphy wall beds are not only aesthetically pleasing in a room, they can provide extra storage and can convert any room into a guestroom!
You might still be asking yourself "do I really need a wall bed? Are they really all they are cracked up to be?". The answer is yes, yes they are! If you already have a guest room in your home, think about how often it is being used. Likely around the holidays, maybe the odd weekend here and there when your in laws or old college roommate come for a visit. The remaining 345 days of the year, it sits there, untouched, collecting dust. What a waste! Now think about how you could utilize that space if it weren't a permanent guest room. Maybe you could use it as a home office or a craft room, a playroom for the kids, homework room, music room, yoga room, a home gym, a reading room….. You get the idea! The possibilities are endless. Let STIL Design get creative in your space so that you can be creative in your own space. Introducing a Murphy wall bed into your guestroom means that room can be any of the aforementioned rooms AND double as a place for your guests to stay.
Another great reason to incorporate a wall bed into your home is for your children's rooms. We all know kids come with stuff. Lots and lots of stuff. Most 2nd, 3rd or fourth bedrooms in homes aren't always very large. This results in cramped rooms with little room for your little ones to be able to play and enjoy their own space. Murphy wall bed to the rescue!! Building a wall bed with storage on both sides can all of a sudden take a cramped bedroom with a bed, nightstand, dressers etc. and compact all of that onto one wall! When friends come over, all you need to do is pop up the wall bed and now all of a sudden, your children can play in their rooms! Imagine that? (Extra bonus: There is no real reason to make the bed anymore! Just put the wall bed away and watch the mess disappear)
At this point, you're likely thinking to yourself "this all sounds great but why STIL Design? I'm sure there are tons of companies out there who offer Murphy wall beds!". You wouldn't be wrong. However, not all of those companies have been around for 20+ years. We know what we are doing. We have had years to hone in on what works, what doesn't work, what looks great, what doesn't look so great and lastly, what best maximizes your space. Another reason is that we are a CUSTOM storage company. This means you won't be picking from already set dimensions or premade blocks. We can make your wall bed and storage units fit perfectly in your room (Which ultimately maximizes space). Your mattress will also sit in a low metal frame which means making the bed and changing sheets is a much easier task than if your mattress is sitting in a thick melamine box.
I know you're all thinking it so to end, no, you do not have to worry about being mouse trapped by your Murphy wall bed in the middle of the night. We promise!